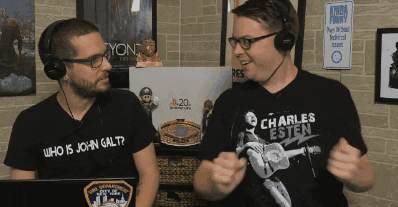 With the demise of Gametrailers, which I used to watch/listen to daily at work, I've been on the hunt for new gaming personalities to follow. Lately, I've been watching a lot of Kinda Funny.
They have a Playstation-centric show called PS I Love You XOXO, which is quite good. Most of these guys came from IGN and I applaud them for leaving, since I hate that site with a passion and they seem to be doing quite well. And Greg Miller recently won Trending Gamer and you should watch his acceptance speech.
I tried Total Biscuit (when he had Kyle Bosman and Brandon Jones as guests) and Funhaus. I did not enjoy either of them.
Some of the GT staff have Twitch accounts now, and Huber Hype is probably the best one currently. I recommend the Street Fighter V launch party:
And just today, I discovered… this.
A muppet playing Diablo. It's actually not terrible.
So… who do you watch? Which reviewers do you trust the most? Which sites do you visit? I will not judge you if you say PewDiePie. Much.