Crash Team Racing Nitro-Fueled
I kinda have to Platinum it at this point, right?
This game does not hold your hand and ease you into the difficulty.
First season was fun. This one looks fun. And they're all free!
Enough! I can't keep up with multiple games with season pass stuff.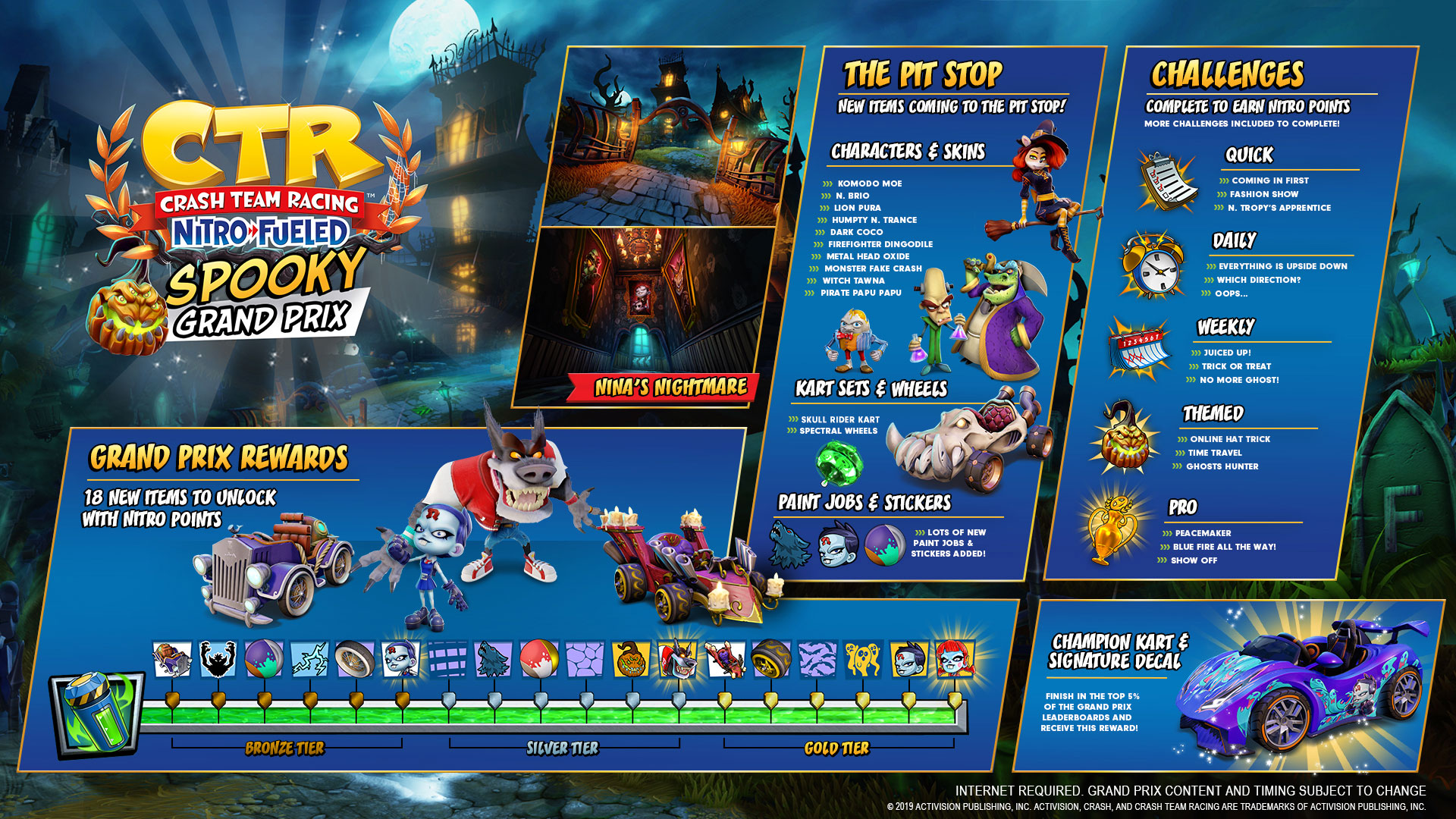 Characters: Nina Cortex, N.Brio, Komodo Moe
New track: Nina's Nightmare
Select characters and items from Nitro Tour will be available
Engine swap: characters are no longer restricted to a type (aka, everyone can be speed and viable now). New type added: Drift
New skins, karts and decals
Wumpa Time will now apply to offline races now, but it's been nerfed to a x2 bonus
AI racers won't use clocks and orbs (these items will also be disabled for the beginning of the race)
New Cup added for the singleplayer
New challenges
I bolded the part that was desperately needed.
https://blog.activision.com/crash-bandicoot/2019-10/Spooky-Grand-Prix-has-come-to-Crash-Team-Racing-Nitro-Fueled
This needs to be said again…
Because you demanded it, more NEWS!!!
FINALLY! I'm sick of entering races with 1 or 2 Pros that kill the rest of us schlubs. Is schlubs a word?
Never mind if that's a word, are Crash Team Racing Nitro-Fueled Pros a real thing?
Believe it or not… yeah. CTR has a huge learning curve. In every race, there are people who can cross the finish line before 6 of the other racers even reach the last lap. Those people need to be grouped together and leave the rest of us alone.
I skipped the last Grand Prix entirely because I was busy playing other things and it didn't look all that fun, but this one may bring me back. It also has a new mode and a new way to unlock one of the characters, which sounds fun.
In honor of my 2nd Most Played Game of 2019, I will continue to update this page with new DLC announcements. Enjoy.
Hahhahahahhaaa… one of the characters is doing a Mad Max guitar pose. Actually, the whole thing looks like Mad Max.
They are going out with a bang with this last Grand Prix:
Deciding earth is no longer of interest, the villainous Nitros Oxide has challenged Crash and team to one last epic battle on his home planet in the Gasmoxia Grand Prix!

During this toxic race to the finish, players will challenge each other on an epic new track high up in Gasmoxia's atmosphere, where two rival fast-food conglomerates are battling it out for planet domination (and a CTR TV sponsorship). New skins, karts, an imperious new character to unlock and a new track to conquer, touted as the most technical track ever assembled in Crash Team Racing - - players will have a wild ride in this Grand Prix season!

The Gasmoxia Grand Prix season is set to go live this Thursday, February 20 at 7:00 AM PST (3:00 PM UTC). With the launch of the Gasmoxia Grand Prix this week, Crash™ Team Racing Nitro Fueled boasts a total of eight Grand Prix seasons, 40 racetracks, 12 Battle Arenas and more than 50 characters!

NEW TRACK: Are you ready for Oxide's final challenge, the most technical track ever assembled in Crash Team Racing? Then prepare to take on Drive-Thru Danger! Not for the faint of heart, this track exists high above the skyline on Oxide's home planet Gasmoxia and pits racers in the middle of a fast-food war between the planet's two biggest conglomerates – Nuclear Pizza and Toxic Burger. Existing at the fringes of space, it's filled with twists, turns and risky shortcuts for the bold. The ever-present gaze of Gasmoxia's corporate giants hangs over the heads of all racers as they strive to beat the track (and each other) and escape this toxic dystopia!

NEW CHARACTER: As if Oxide's presence wasn't enough, he's enlisted help from the Galaxy's self-proclaimed ruler, Emperor Velo! Unlock this devious new character in the Nitro Gauge.

NEW TIME TRIALS: Velo isn't just making an appearance this season, he's providing a whole new challenge in Time Trials! See how fast you really are by beating Velo's insanely fast times on each of Nitro-Fueled's courses.

NEW KARTS: Your intergalactic ride awaits! Unlock three hovering new karts this season: the Void Manta, the Velo Chopper and the retro-vibing Galactic Cruiser.

PIT STOP ITEMS: When in Gasmoxia, do as the Gasmoxians do! Look like a local with a wide array of new Pit Stop items to swag out your racer and kart in the space-adventuring theme of the planet.

CHAMPION KART AND DECAL: Finish in the top 5% of the Grand Prix leaderboards and win the Champion Kart and Gasmoxia signature decal!